Addendum:
Galaxies are an insoluble problem for believers in the random nature of the
Big Bang
cosmology of the universe. If there was an enormous
Big Bang
, stars should be randomly and almost evenly scattered throughout the universe. But that is not what we find. We find enormous clusters of stars which we call galaxies. According to
Space Place
, "A galaxy is a huge collection of gas, dust, and billions of stars and their solar systems, all held together by gravity."
According to
NASA Science
, "Like more than two-thirds of the known galaxies, the
Milky Way
has a
spiral shape
. At the center of the spiral, a lot of energy and, occasionally,
vivid flares
are being generated. Based on the immense gravity that would be required to explain the movement of stars and the energy expelled, the astronomers conclude that the center of the Milky Way is a
supermassive black hole
." "Other galaxies have elliptical shapes, and a few have unusual shapes like toothpicks or rings. The
Hubble Ultra Deep Field
shows this diversity."
Galaxies show design, not randomness. Even honest astronomers admit there is a problem.
Jonathan Sarfati
, Ph.D., wrote the following: "Dr.
James Trefil
, professor of physics at George Mason University, Virginia, accepts the '
big bang
' model, but he admits that there are fundamental problems:
There shouldn't be galaxies out there at all, and even if there are galaxies, they shouldn't be grouped together the way they are.

He later continues:
The problem of explaining the existence of galaxies has proved to be one of the thorniest in cosmology. By all rights, they just shouldn't be there, yet there they sit. It's hard to convey the depth of the frustration that this simple fact induces among scientists.

The creationist cosmologist, Dr.
John Rankin
, also showed mathematically in his Ph.D. thesis that galaxies would not form from the
big bang
."
The astronomer who accepts the
Big Bang
cannot adequately explain the existence of galaxies. The galaxies show order and design, not random coalescence. Who can do anything but marvel at the beauty of a spiral galaxy. God created it that way. It is not the result of random chance!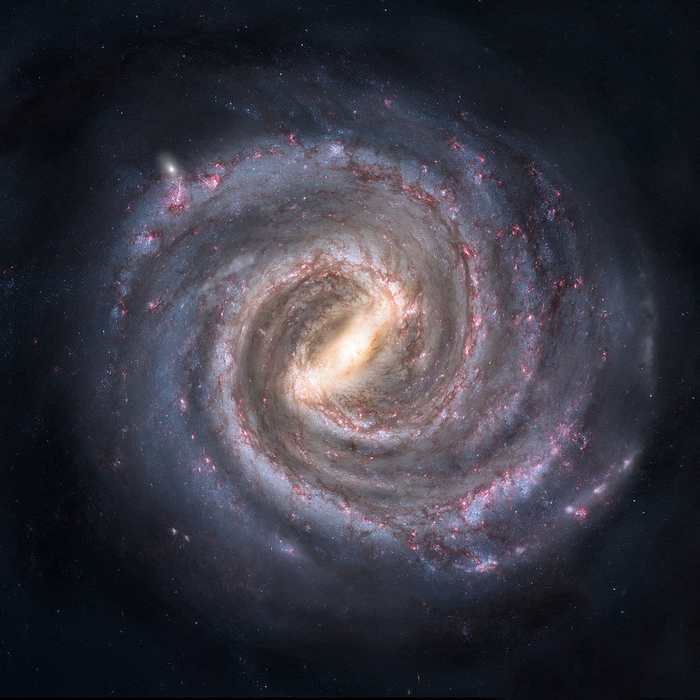 An Artist's Conception of The Beautiful Symmetry of the Barred Spiral Galaxy, Milky Way
Image Credit
Jonathan Sarfati,
Refuting Evolution
(Atlanta, Georgia, 2014), p. 93.
James Trefil,
The Dark Side of the Universe
(New York, Macmillan Publishing Company, 1988), pp. 3 and 55; see also A. Williams and J. Hartnett, Dismantling the Big Bang, Master Books, 2005.
John Rankin,
Protogalaxy Formation from Inhomogeneities in Cosmological Models
(Ph.D. thesis, Adelaide University, May/June, 1977).